Applicon stirred bottoms are available in nominal 300, 450, 600 mm and 1 meter diameters ( 12" to 40"), and are typically used on feed hoppers or storage bins from 12" to 8 ft. diameter. These devices keep difficult materials moving by sweeping the diameter with blades or agitator disk.
Stir bottoms can have multiple outlets to discharge to two or more augers, rotary airlocks, or vacuum pickup adaptors. Heating or cooling the bottom is easily accomplished.
More information on Stir Bottoms Feeders
Live Bottom Feeder/Activator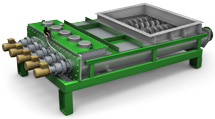 Applicon builds live screw bottoms per the application, to handle fibers, shredded waste, wet filter cake, spent distillers grains or other materials. These can be single, double, quadruple or more augers. The spirals may be 6 to 14" diameter, either as CEMA standard augers, ribbon augers, or shaftless augers.
Live screw bottoms with multiple screws can be made liquid tight, gas tight and inerted, heated or cooled. They can be differentially "tuned" to adjust both the feed rate and the
discharge pattern from the bin above. These are especially effective on rectangular bins, with straight, converging or diverging sides.
More information on Live Bottom Feeders
Oscillating Feeder/Activator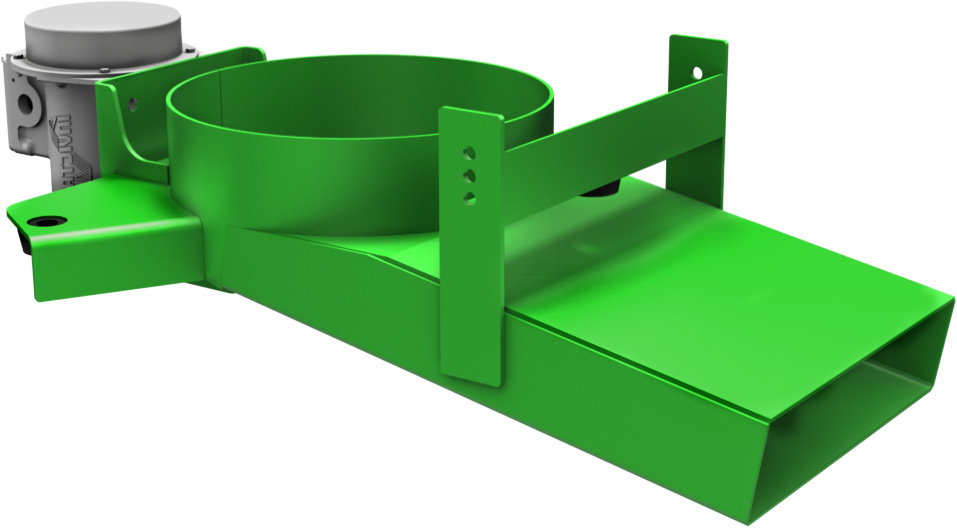 These devices are both activator and feeder. Applicon builds these in nominal 250, 300, 450, and 600 mm inlet diameters, and pan widths of 6" to 40". They are typically used for moderately difficult to free flowing powders and granules, and for very abrasive metal or ceramic grains.
Applicon Oscillating Activators are "tuned" to the feedstock, and typically are used for moderate feed rates, and where a wide distribution is required (as on a web).
More information on Oscillating Feeders
FIBC Massager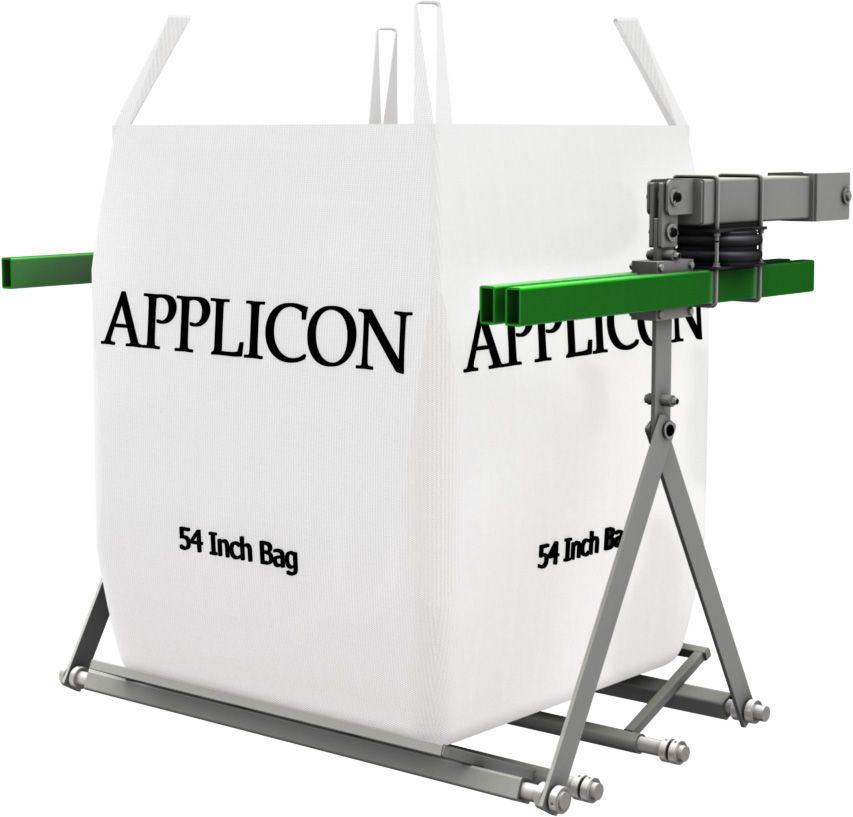 Applicon makes FIBC discharging systems with intense massage, to safely extract very difficult materials from bulk bags. Vibration isn't very effective for most powders or compacted or agglomerated materials. Applicon massagers thrust and then relieve the bottom of the bag, and the spout. This mechanical pulsing normally causes even the most compacted material to move. A proper discharger eliminates the need for a giant discharge spout, which in itself can be a safety issue (once started, how fast will powder flow out of a 24" diameter spout? !).
The massage tables are designed to always move in unison, so there is no risk of toppling a big bag. The tables are made to safely rest a 4,000 lb. bag, and to lift and thrust that entire weight.
More information on FIBC Massagers
FIBC Deblocker/Extractor
Sometimes even intense massage (or a large spout) isn't enough to safely discharge the contents of a big bag. For example, 1000 kg bags of cane sugar, can cake or agglomerate producing large chunks that won't pass the sack spout. The Applicon FIBC deblocker massages the bottom of the sack first (just as does our Massager), where the product is the hardest. The sides are then thrust, relieved, and stretched, to propagate cracks through the block and also break adhesion to the sack or sack liner.