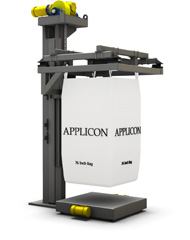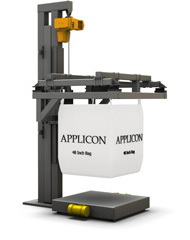 Filling bulk bags ( aka… FIBC fillers, supersack fillers, big bag filling , and bulk sack ) requires consideration and balancing of these factors:
Rate

Filling a few bags per day
Filling a few bag per hour
Filling many bags per hour
Bag/Container Size

Is the system to be dedicated to one size bag, or a few of similar size ?
Or, system to be capable of many or any size bag ?
What range of bag heights ?
Range of bag cross section (width) ?
Range of bag weights ?
Might the system also need to fill drums, gaylord or portable bins ?
Accuracy

Does the product value justify a high accuracy feeding system ?
Does the product value justify a high precision scale(something better than just NTEP certified ) ?
Bag Weight

What is the smallest and largest weight to be filled?
Bag Hanging

Grounding
Traversing/Sliding strap hangers
Bag inflation
Bag Filling

Is a hopper required over the filler ?
What is the headroom in the area ?
Adjustable fill heights ?
Programmable fill heights ?
Is pre-weighing required ? (sometimes suggested for high speed systems)
Product Compaction & Bag Stability

Granular product, where gravity compaction is sufficient ?
Fluidizable product, requiring extra time to de-aerate ?
Fluffy product that demands tamping, vibration, and/or vacuum de-aeration ?
Dense powder that requires "tabling" to yield a flat bottom on the filled bag ?
Bag Closing & Package Handling

Will a forklift remove the finished bag by lifting it with a skid ?
Should the finished bag be shuttled or conveyed "downstream" for closure ?
Is accumulation of filled bags necessary ? (normally yes, for high output systems)
Is a pallet dispenser or slip sheet dispenser advisable ? (again, yes, for high speed filling)
Portability & Environment

Will the system be stationary ?
Or, must the filler be forklift portable ?
Does the service area require ATEX design ?
Applicon builds bulk bag fillers to suit the customer's requirement, from simple and inexpensive, to high speed, efficient and cost effective. Call us to discuss the how, the why, and the costs for a system to fit your filling requirement.