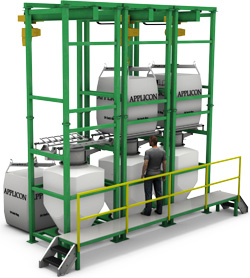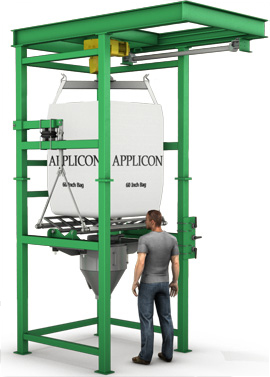 Applicon makes a broad range of bulk bag dispensing stands, all with these standard features: very rugged construction of 4" heavy wall structural tube, with minimum working capacity of 4,000 lb. provides safe, stable handling without swaying or shaking.
Loading
Fork lift loaded frames are least expensive, but also least flexible. Hoist loaded designs cost more but improve productivity because a full bag can be staged while the current bag is being emptied. Explosion proof hoists and ways are standard options. Optional extended bridge designs allow accessing a row of bags, without the presence of a forklift.
Frames
Standard headroom designs allow up to 30 cu.ft. storage, still at an elevation accessible to the operator. Very low headroom designs will unload a 60" tall bulk sack, under a 14 ft. overhead clearance, and still have a hopper with 7 to 11 cu.ft. of capacity.
Extraction
Our high strength tables and actuators really do massage the bag, to extract difficult powders or flakes dependably and safely, and never cause the sack to sway or tilt. Sidewall kneaders can be added to break up caked product.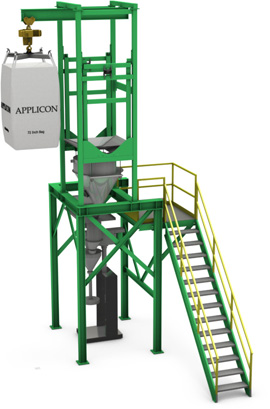 Holding Hopper
If 900 lb. is needed from a 2,000 lb. bag, you want to have enough holding capacity to allow a bag change without running out of product. Our thoughtful design leaves headroom for a useful size receiving hopper, still within a reasonable access height.
Conical hoppers are standard, for predictable flow of difficult materials. Stirred bottom hoppers, and cone valve hoppers, provide even larger interim storage volume, for high volume dispensing stations. Pyramidal hoppers are available for very free flowing granules. Isolated hoppers are standard, so if vibration is needed, it all goes into moving product, not into shaking the stand or conveyor.
Dust Containment
Even when being massaged, the neck of the bag is kept in place, so that spills can't occur. Displaced air from the hopper is vented away from the access doors, with the vent positioned so that it captures only airborne dust and doesn't suck up valuable product. The wide, self-cleaning access door allows the operator to easily untie (or re-tie) the neck. An Integral compact dust collector is optional, returning all dust to the hopper.