Rotary In-line Tumble Mixers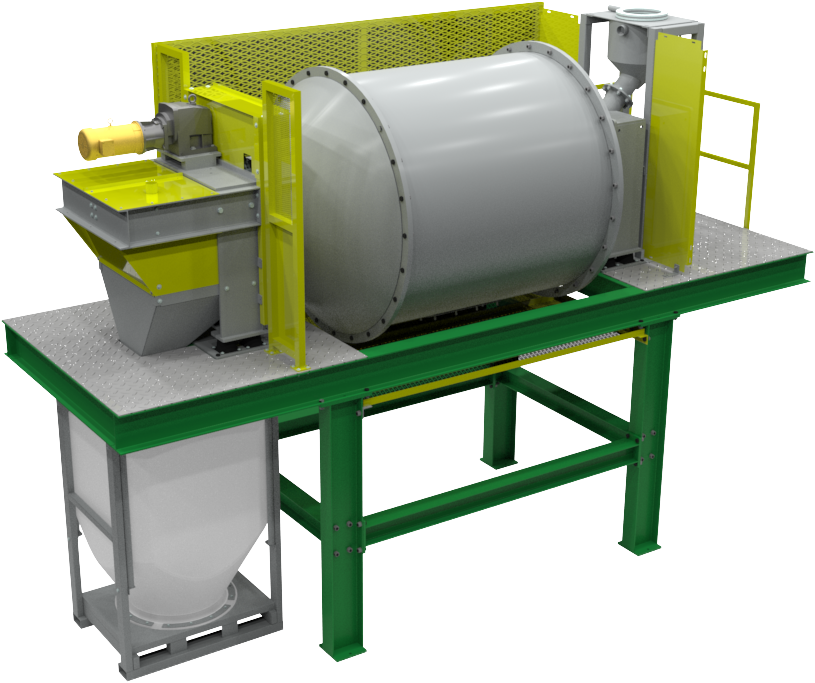 Applicon RTM rotary tumble blenders are ideal for very abrasive materials and high density materials. Yet the RTM is equally effective and efficient for blending and flavoring fragile flake, leaf, and crystals.
Gentle Mixing
The slow rotation and gentle tumbling of the batch allows fragile materials to be mixed with minimal attrition. There is no rotor to pinch or smear the product. Product attrition is minimal.
Fast Mixing
Mixing time, after the addition of the last ingredient, is just 2 to 3 minutes. Spray coating may add another few minutes. This short mix time is true for all sizes of Applicon rotary tumble mixers, from 5 cu.ft. to 400 cu.ft.
Non Segregating
Internal flights are fixed affixed to the rotating body. The ingredients are scooped, lifted, tumbled, pitched forward, and reverse cascade. This complex and turbulent mixing action prevents segregation by density or particle size, regardless of extended blend time as when the discharge is interrupted to change the receiving container. Thus the Applicon RTM can used directly to package into small containers, or can be used for rapid batch discharge, without affecting the blend.
Liquid Addition
The RTM allows liquids to be sprayed evenly and quickly onto the cascade of dry batch. Applicon can provide spray systems using volumetric pump or by weight. Either approach can have air or gas purge of the injection line.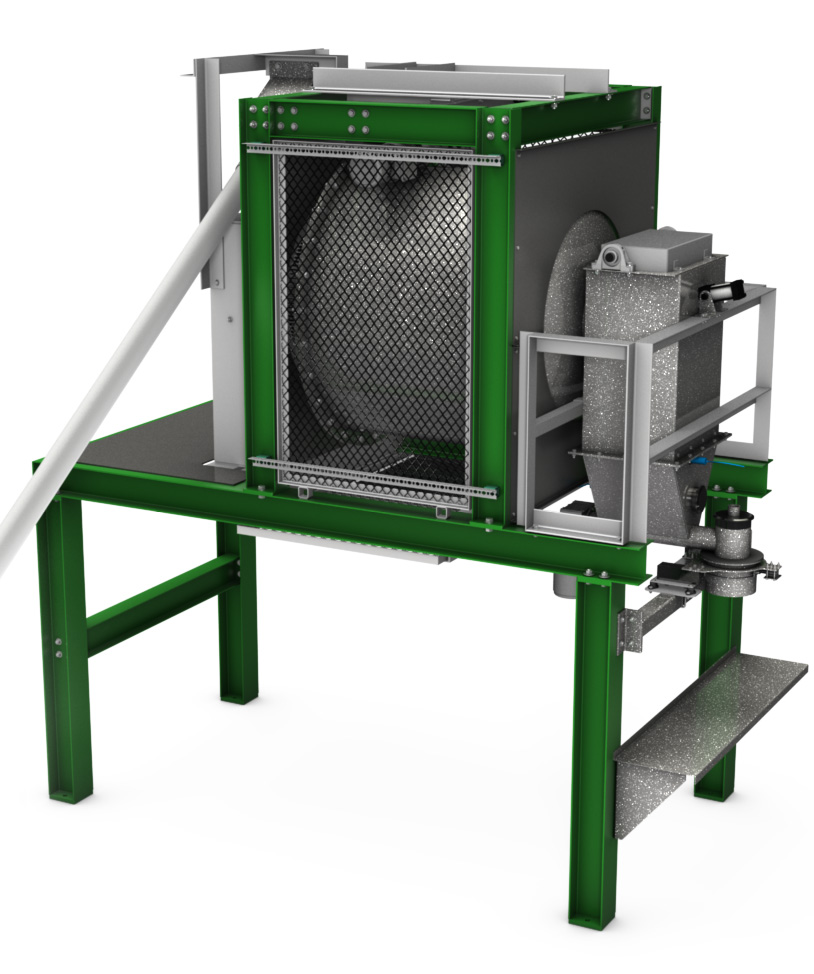 Complete Product Discharge
The RTM can discharge portions of the batch. The discharge plug valve is fast closing, seals tightly, and is non-wearing. Or, the blender can disgorge the entire batch in only 2 to 3 minutes. When complete, there is no heel of product as in a fixed tub blender with an agitator. The RTM discharges completely except for tenacious dust.
Cleanout & Sanitation
Where even residual dust is too detrimental, Applicon can equip the RTM with fan or compressed air blowdown and dust collector.
For high sanitation, the RTM can have insertable or fixed CIP nozzles, water drain port, and subsequent drying via hot air.
Periodic inspection of the interior is done via hinged inspection door(s) in the body of the mixer, after lock out - tag out LOTO of the machine.
Larger Applicon RTMs can be equipped with Retractable infeed, and Retractable Discharge, for inspection of those ports, and to sanitize the plug valve assembly.
Efficient
Rotary blenders input the least energy to the product. Typically the RTM operates at 15% to 30% of the KW required for an agitated blender.
Low Height
Applicon RTM rotates on external bearings, leaving an open porthole on each end. Thus raw ingredients enter, and blended product discharges, on the same axis. Even a large RTM will fit into a low clearance room where an agitator blender may not.
Low Maintenance
The slow movement of product in the RTM not only minimizes attrition to the batch, it minimizes wear to the machine. The sliding and spilling movements are low velocity and virtually zero impact. Thus abrasive wear to the body and lifters is minimal. For very dense and sharp particles Applicon offers replaceable AR flights. The RTM has no agitator, which eliminates the expense and downtime of servicing shaft seals. Easy to access bearing zerks
Contact Applicon for your blending application: sales@appliconco.com