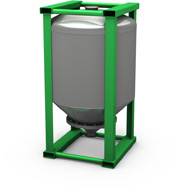 In-Plant Portable Bins
Portable bins and bin dispensing systems are useful for in-plant transfer and storage of product in-process, and for holding semi-bulk ingredients where the quantity and frequency of change make bulk bags unsuitable. Using a partial bulk sack can be done, but it just isn't very practical or sanitary. Portable hoppers and containers are also useful for storing materials closed to atmosphere, or inerted by nitrogen or argon.
Construction
Applicon offers portable bins in steel, stainless, or aluminum construction, or tough translucent polymer with heavy duty steel frame. These are available with several styles of inlet and discharge gates to suit a wide range of stored materials. Portable bins with conical discharge valve, coupled with compact unloading stations provide high speed, high accuracy dispensing of difficult powders or granules.
*All bins are custom built, in minimum quantity of six units*

Shop-Welded Silos
• Steel or stainless, 8 to 14 ft. diameter
• Flat bottom, chisel bottom, and conical bottom
• Skirted, legged, or lug mounted
Field-Welded Silos
• Steel or stainless available, 14 to 30 ft. diameter.
• Drive-through structures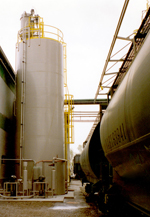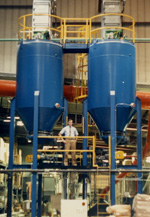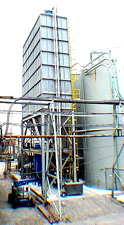 Perlite Storage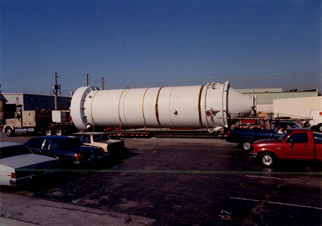 Wet Ash Silo