Vacuum Filter Receivers (VFRs)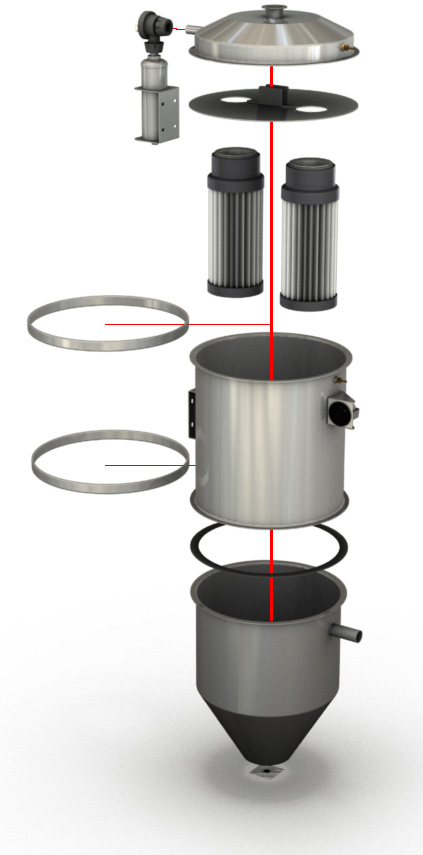 Vacuum filter receivers (VFRs) can be designed for side or top access (bag inspection and replacement), and for vacuum up to 17" Hg (very high vacuum). Most systems operate at 4 to 8" Hg vacuum, but dense phase vacuum transport operates at 8 to 17" Hg for at least part of each cycle, with a corresponding reduction in conveying velocity over short distances.
Pressure filter receivers PFRs are constructed for standard pressure up to 14 psig, with special PSR construction up to 10 bar.
We offer quick ship VFRs and PFRs in 10", 17", 24" and 30" diameters, in steel or all stainless construction. We also have standard designs for 36, 42, 48, 60, 72 and 96" diameter receivers.
These are available in quick clamp modular, or flanged & bolted design, top or side access, and can be provided with any style of discharge valve. Capacities range from a few hundred to 20,000 lb/hr. of granular or powder products.
For filter receivers in abrasive service, we offer
• Actuated disk gate, intermittent disch, abrasive service
• Actuated cone valve, intermittent disch, abrasive service
• Actuated dome valves, intermittent disch, abrasive service
• Urethane or rubber liners in contact areas
• Ceramic lined rotary airlock valve
• Carbide or ceramic lined eductor