Rail Unloading into Mixer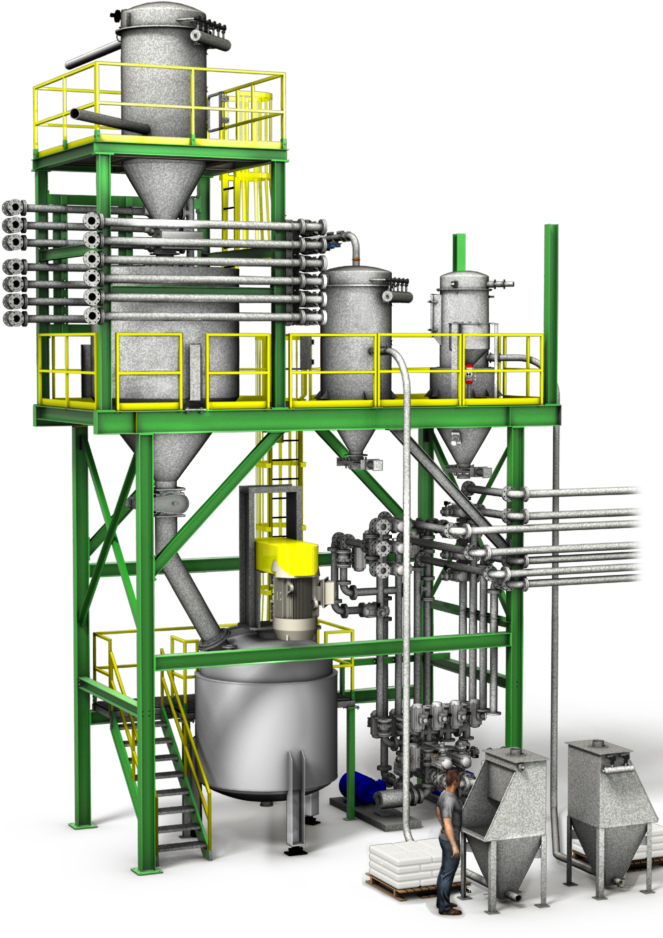 Compounding SMC
In 1993, Applicon built a rail unload system for a manufacturer of sheet molding compound SMC, to unload calcium carbonate from PD railcars, store and then deliver th
at bulk powder to the mixer/disperser.
In 2016 the plant wanted to improve delivery of minor powders to that mixer, and also to change alumina trihydrate ATH from small bags to FIBC bulk bags. Applicon provided a dual station big bag dispensing system, a small bag dump station, and a vacuum filter receiver scale to batch the ATH and the remaining minor powders to the mixer.
Sales outstripped the capacity of their existing disperser mixer, so a building expansion was planned, to add another 300 hp. disperser.
For this expansion in 2018, Applicon built another rail unloading & storage system, new delivery & batching of bulk powder, a new minor vacuum receiver scale system, pre-fabricated and painted multi-deck equipment structure, and tie-in of our ATH from supersack.
Applicon designed the new system with improved access for inspection and maintenance, and even retrofitted the older equipment. We also modeled thirteen 4" supply pipes & valves from the new tank farm, and integrated the pipe supports into our steel, speeding the field installation. Similarly, we also modeled the Viking paste pumps and paste delivery piping to the cure room.