PVC Dry Blend Mixer Cooler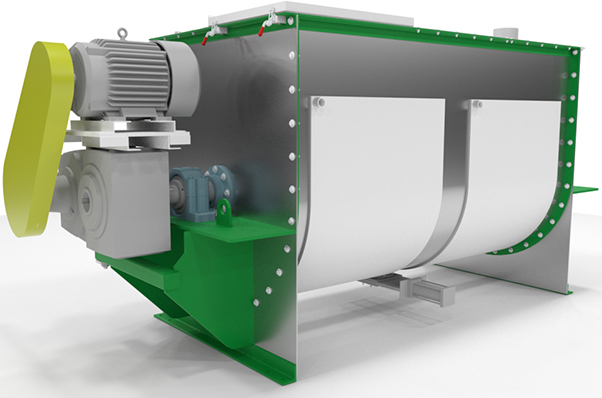 To augment production from Henschel ™ or other high intensity mixer, Applicon builds multi-batch blender/coolers, to temper the batch before extrusion, and continuous gravimetric feeding to the extruder & pelletizer.
This stainless steel blender-cooler is 5 ft. swept diameter x 13 ft. long U-tub body. The machine, while still using a paddle style agitator, is augmented by a ribbon spiral to enhance lateral transfer at the center of the agitator.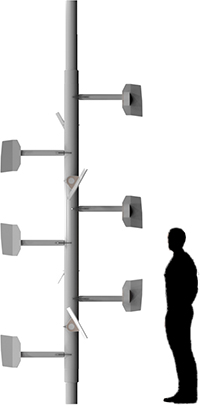 The main shaft carries massive spokes, which in turn carry the paddles & ribbon. This industrial application did not require a sanitary finish, so the customer chose not to incur that extra expense. Because the dry blend was somewhat abrasive, they did chose the more expensive shaft seals with self adjusting face seal ring and air purge.
The blender body has a chilled water cooling jacket, which is integrally welded cooling jacket to provide better heat transfer than a bolt-on or separately welded jacket.
The blender incrementally discharges cooled compound into an Applicon high capacity continuous gravimetric feeder (loss-in-weight), metering up to 13,000 lb/hr of product to the extruder below. This 65 cu.ft. gravimetric feeder is equipped with a stirred bottom that maintains a uniform bulk density after the refill, and insures positive flow to the feed screw.
A second smaller Applicon loss-in-weight feeder, with vacuum hopper loader, handles color concentrate. That feeder is integrated with the compound feeder, slaved by weight to continuously ratio meter color concentrate directly to the extruder.