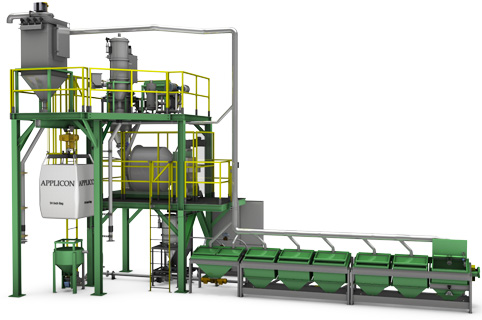 A worldwide manufacturer of friction materials was enjoying growing sales of a new product line, but the existing production equipment was a bottleneck. The existing semi-manual batching method was labor intensive, and caused variable quality. Charging the V blender was difficult, and put the operator at risk of a lifting injury. The actual blend time was very long.
After blending, an operator would charge the forming press by hand scooping and weighing the blended material on a bench scale, then manually dump and level the material in the die cavity of the 500 ton press. Every aspect of production was laborious, inaccurate, and un-ergonomic.
In addition to solving those process issues, the customer also wanted if possible, to avoid the considerable costs of re-arranging the existing cold presses, ovens, and hot presses. They needed the small space that was being used for the existing system, to be the same space for any new automated system.
Many vendors were able to quote a bulk bag dispenser; a dump station; a scale; or a blender. A few vendors were able to quote a system. The customer eventually found that only Applicon had the design platform and range of solutions for their plant.
With 30 years of experience in designing compact batching and processing systems, Applicon designed a system that fit the available space, improved ergonomics and safety, improved the accuracy of formulation, improved the tolerance of the pressed parts, increased productivity by three fold, AND still allowed space and safe access for inspection and maintenance.