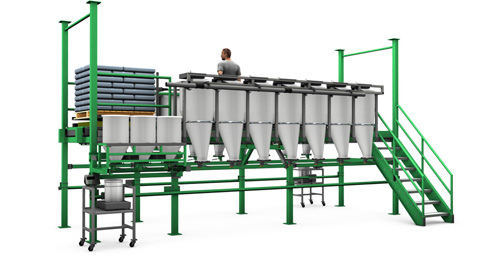 A North American beverage products manufacturer was looking for a system to help with fulfillment of minor dry ingredient batches, for those minor ingredients that came in 50 lb bags. Most of these were not candidates for receiving in bulk bags, due to the low daily use.
With eighteen of these minor ingredients, it was impossible to avoid having to use only a partial bag of each. Thus the kitchen usually had eighteen different bags sitting open, with the attendant problems of dust and spillage. The operator might need to scoop out 2 lb. of the bag, or might need 42 lb., leaving a nearly empty bag. This manual method for minors was slow and prone to inaccuracy.
Applicon provided a semi-manual system where the fifteen powders and fine granules are each dumped and held in 15 cu.ft. rotomolded HDPE vessels. Three micro ingredients are dumped to special 3 cu.ft. stainless vessels.
Each bin is equipped with a manual discharge valve that both agitates the stored product, and controls the rate of discharge. This combination of flow encouragement, and flow control allow the operator to discharge very small batches with a very tight tolerance, yet also discharge up to 49 lb. if necessary.
The portable cart mounted scales allow the operator to move along the two lines of bins, following and executing the batch card with much greater ease and accuracy. To eliminate the need for umbilical power, the scales were battery powered using quick change rechargeable modules.
Dumping 50 lb. bags is an ergonomic and housekeeping challenge, so Applicon designed a powered delivery car with integral lift, to move the bags of ingredients to the work area. A skid of bags is placed by forklift onto the car, which then travels the length of the mezzanine. The skid is raised by pneumatic lift as necessary to keep the top row of bags at the proper height for the operator to simply slide the bag over the port of the target bin. A sealed precision turntable allows operator to easily rotate the skid to avoid having to reach across the pallet.
Each bin has an integral dust pickup, with manual Open/Closed feature to reduce the total airflow to the dust collector. Emptied bags are dropped down a dust controlled chute to a portable bin for compaction.
Many of the ingredients are fine powders, prone to packing and bridging. Our eccentric cone and agitated discharge worked well for most of these. The few ingredients that still had erratic flow problems were solved with strategic placement of simple point fluidizers.