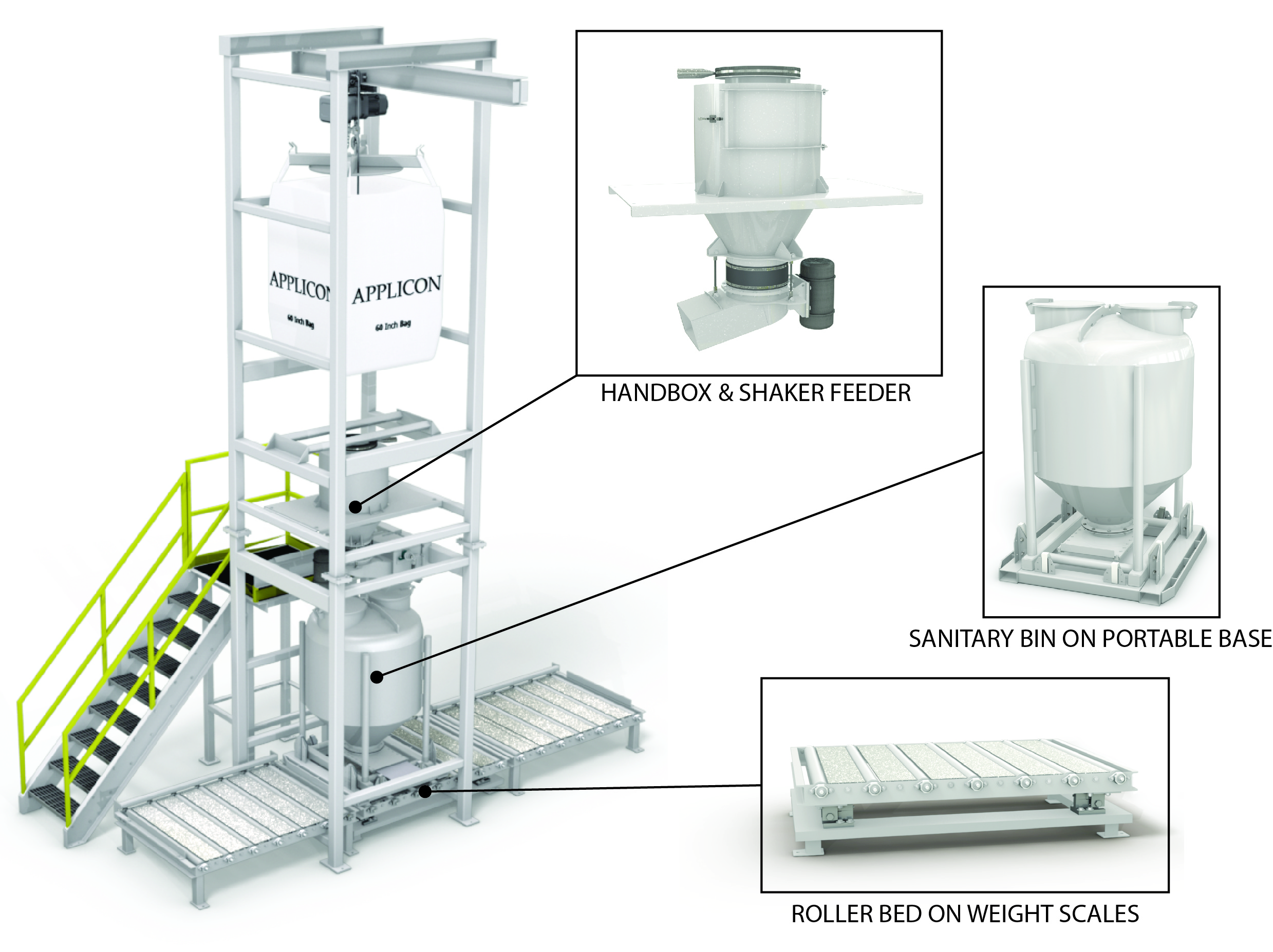 With the growing popularity of cold brew tea, a multi-national beverage maker asked Applicon to build a tea leaf dispensing and metering system for their plant expansion.
We designed the system for sanitary service, with these features:

• Modular all stainless dispensing tower, with 1 metric ton hoist and powered trolley, to lift bulk bags weighing up to 1 metric ton, and position for dispensing
• Full capacity bag rest, to safely place the FIBC for untying the bottom spout
• An iris valve to control the opening of the discharge spout, and to also allow re-closing for removal of a partially emptied bag
• Handbox and door to access the spout for untying and retying
• Hopper and transition to the 12" dia. feeder port
• A totally enclosed vibratory wide pan feeder, isolated from the hopper above, to meter a batch of leaf for into a portable bin, for transport to the brew kettle
• Multiple sanitary portable bins, each to hold a batch of leaf
• Ultra-sanitary roller conveyor, to move the portabins through filling

The batch bins were to be forklift portable, but to avoid the risk of foreign material falling into the brew kettle, Applicon designed the forklift base to be separate from the batch bin. Thus when the bin was lifted for charging to the kettle, the base stayed on the floor.
Due to limited headroom over the kettle, the bins were made with a center fixed lift bail, single point connection. This eliminated the extra height, and extra effort, of attaching any rigging chains or straps. The center bail disallowed the use of a single center fill port, so Applicon built the bins with two ports, with raised collars and sanitary hinged covers.
The bin roller conveyor has stainless pipe rollers, but with welded shafts, so that the hollow roller is completely sealed. The shafts are held by external food grade bearings, with plenty of room to spray and sanitize the bearings, rollers and frame. The middle roller deck is set on precision load cells, to control the weight dispensed into the bin. The entire conveyor is fitted with removable stainless tread plates between the rollers, with special consideration for wash down without removing the plates.