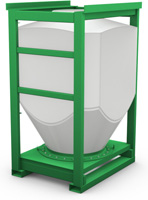 Cone Valve Bin
Applicon cone valve portable bins have an internal cone that serves both as the discharge gate and flow enhancer. They will store and extract the most difficult powders, or highly abrasive granules, and eliminate the leaking and jamming commonly experienced with slide gate valves.
Ingredient Sizes
Cone valve bins are available for micro ingredients, in sizes from 3 to 25 cu.ft., and minor ingredients from 53 to 100 cu.ft. These may be tough translucent polymer, painted steel or stainless steel. All are built with extremely rugged steel frames for forklift handling and stacking.
---
The Unloading Stations for these bins can be:
Gravity Discharge
Used when the stored products are free flowing, and the bin will always be emptied. The forklift places the bin, and the station opens the cone valve as the bin descends.
Active Discharge & Metering
Used for difficult powders and flakes, when the bin might be removed before empty, or when a metered discharge is required. The forklift places the bin, but the Discharge Station actuates to raise the Cone Valve, vibrates the Cone Valve (vibration directly into the stored material), and also vibrates the entire bin.