Bag Slitters & Product Recovery Systems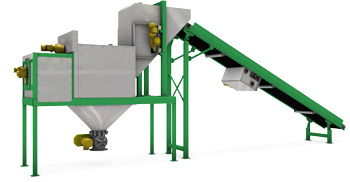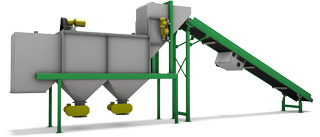 Cost Effective Product Recovery
High speed bag slitting systems are used to reclaim product from mis-filled bags, or to transfer ingredients from bags when it isn't available or cost effective in semi-bulk.
Applicon builds a family of systems to cleanly open kraft, poly lined kraft, polyethylene, and even woven polypropylene bags and sacks.
Semi Manual
Semi manual SBS-3 is an inexpensive compact system to open up to 3 bags per minute. Operator places the bag onto a carousel which lifts and drops the bag through the slitter.
Fully Automatic
Fully automatic HSBS-10 system opens up to 15 bags per minute (up to 30 tons per hour of product)
Debris & Dust Free
Product recovery is virtually complete and free of packaging bits or shards. The waste packaging is ejected nearly dust free for disposal or recycling. High throughput systems can be made for single floor operation, or can be fed from an upper floor or mezzanine, discharging product below.
Options with these systems are product sifting, product conveying, waste material baling.
Recovered product discharges to portable bin or conveying system.